Donít think of her as gone away
Her journeyís just begun
Life holds so many facets
This earth is only one.
Just think of her as resting
From the sorrows and the tears
In a place of warmth and comfort
Where there are no days and years.
Think how she must be wishing
That we could know today
How nothing but our sadness
Can really pass away.
Think of her as living
In the hearts of those she touched
For nothing loved is ever lost
And she was loved so much!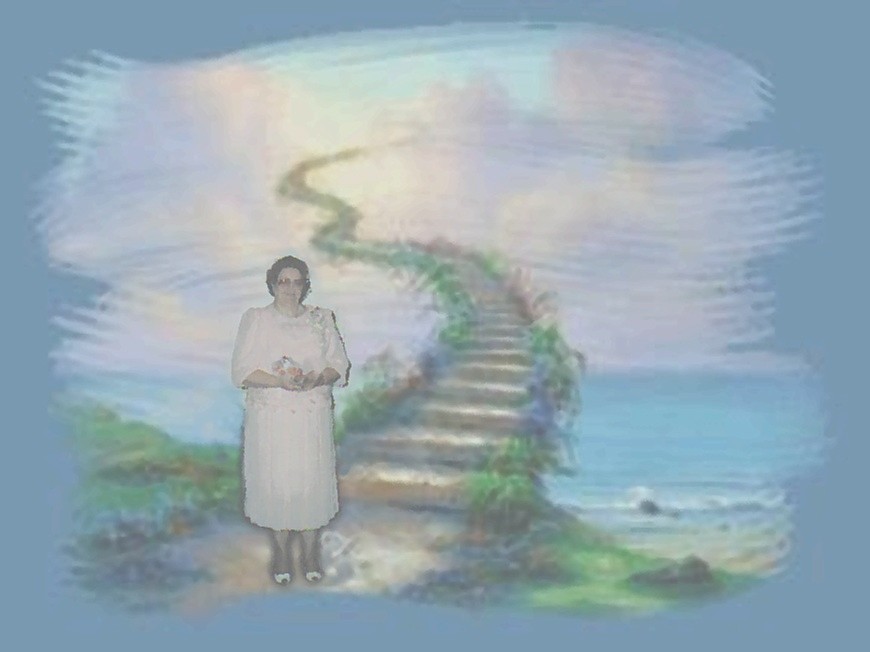 HOME
Whispering Hello Again

I looked to heaven today and saw your smiling face.
Realizing the peace you now hold silently with Godís guiding hand.
I listened to the wind and I heard your laughter that has so often soothed our aching hearts even when the sunlight has lain quietly beneath your sorrow.
We may still seek the solace of your earthly arms, but know that forever embedded in us is your presence as
Hope, Faith, Strength and Love.
These are gifts that you so unselfishly gave us as a true angel of grace from God.
So although you may truly be gone from our sight, your arms still hold the strength of memories singing in my dreams.
And tomorrow when I long to hear your voice I will remember you telling me to talk to Jesus until I can whisper hello once again.

I Love you
Sarah

She is Gone
You can shed tears that she is gone
Or you can smile because she has lived.
You can close your eyes and pray that she will come back
Or you can open your eyes and see all that she has left.
Your heart can be empty because you can't see her
Or you can be full of the love that you shared.
You can turn your back on tomorrow and live yesterday
Or you can be happy for tomorrow because of yesterday.
You can remember her and only that she is gone
Or you can cherish her memory and let it live on. You can cry and close your mind, be empty and turn your back,
Or you can do what she would want:
smile, open your eyes, love and go on.